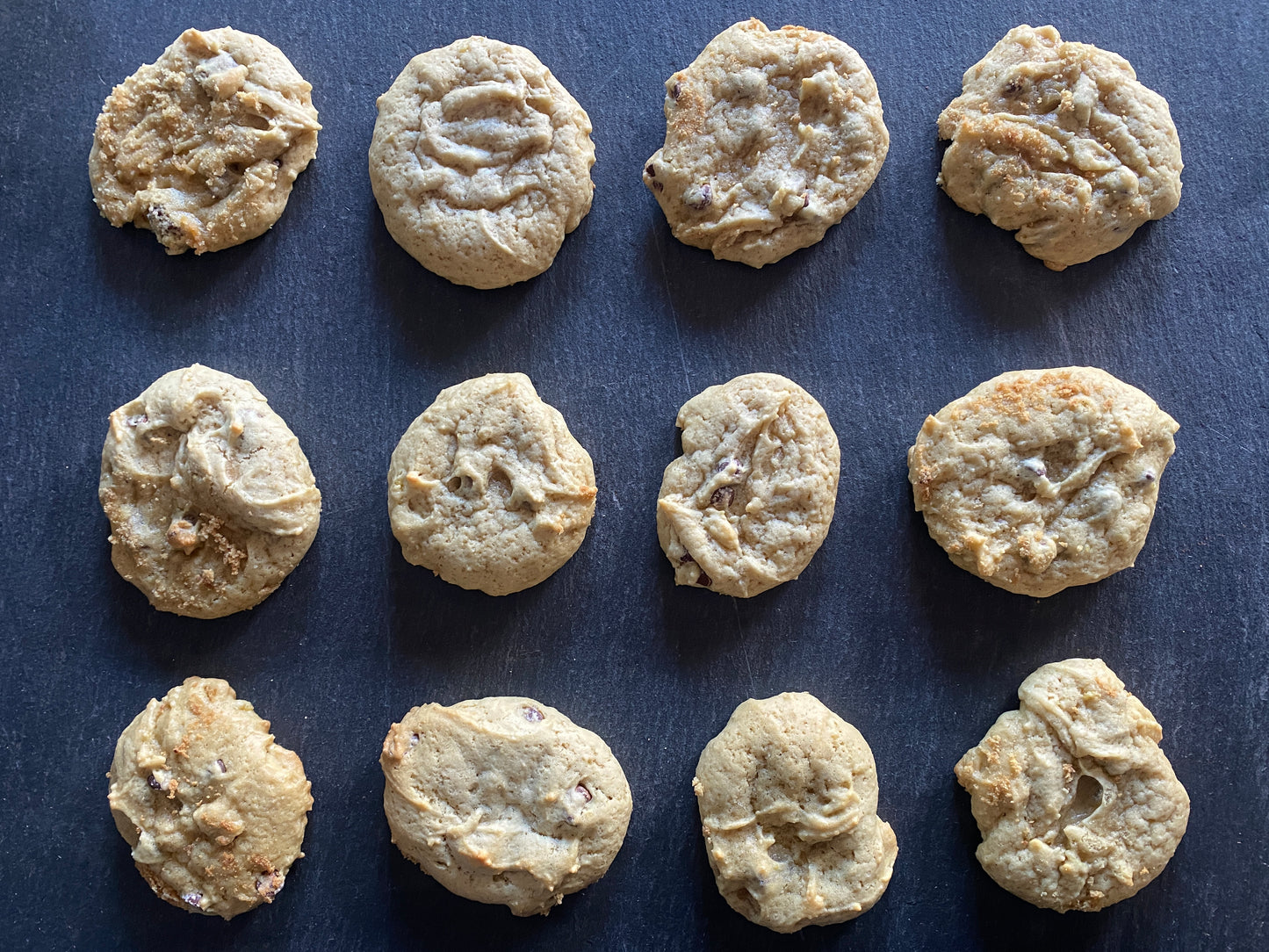 Some say that potatoes are boring. They've even been accused of being lazy. These sound like projections of boring and lazy people onto a really interesting and energetic food. On the other hand, potatoes are used to describe something basic yet sturdy - a real meat and potatoes kind of guy - which I take to mean grounded and practical. 
For the sake of the recipe I developed this past week for my family, let's take the brawny man archetype and bake that into a cookie. If a cookie was strong and reliable, who would it be? POTATO CHOCOLATE CHIP COOKIE.
There are so many delicious variations on chocolate chip cookies out there. Some are crispy, chewy, crunchy. Adding potato to this basic cookie, gives it a barely-cooked consistency without the dough bomb punch in the gut feeling of undercooked cookies.
The idea of using potatoes in baking has been with me for a while, ever since I started baking with squash, sweet potatoes and tropical fruits like banana. Starchy, moist, sweetness, volume: these are all things that roots, squashes and fruit add to leavened cakes, cookies and breads. I have come across a few potato cookie recipes that call for dehydrated potatoes, or instant mashed potatoes, but this POTATO CHOCOLATE CHIP COOKIE recipes uses fresh boiled potatoes brought to a doughy consistency with a dough hook or dough blade on a mixer or food processor. Getting the cooked potato into a sticky, doughy consistency is an important part of what makes these cookies so moist.
I used a yellow skin yellow flesh variety called ONEIDA GOLD, which has a starchy, waxy consistency, similar to Yukon Gold. You can use any yellow potato variety.
RECIPE
POTATO CHOCOLATE CHIP COOKIES
makes 15-18 cookies
2 medium yellow potatoes
1 cup brown sugar
½ cup whilte sugar
2 eggs
1 stick butter (room temp) or ½ cup sunflower oil
1 tsp vanilla
2 ¼ cup flour
1 tsp baking soda
1 tsp salt
1 cup chocolate chips
Peel potatoes and boil until they can be pierced with a fork. Cool for 15 minutes. In a food processor or mixer, use dough hook or dough blade to work potatoes into a sticky ball - about 1 minute.
Preheat oven to 350 degrees. 
In a large mixing bowl, add ball of potato, sugars, eggs, butter/oil, and vanilla. Beat with hand beater or mixer until potato is fully incorporated. Add flour, baking soda, and salt. Mix with beaters until smooth and dry ingredients are incorporated.
Use a wooden spoon to stir in chocolate chips. Place golf ball size balls of dough on baking sheets in rows of 3 across and 4 down - about 2 inches apart. Bake for 8-10 minutes or until BARELY DONE.
Store at room temperature wrapped in a clean cloth or in an airtight container.