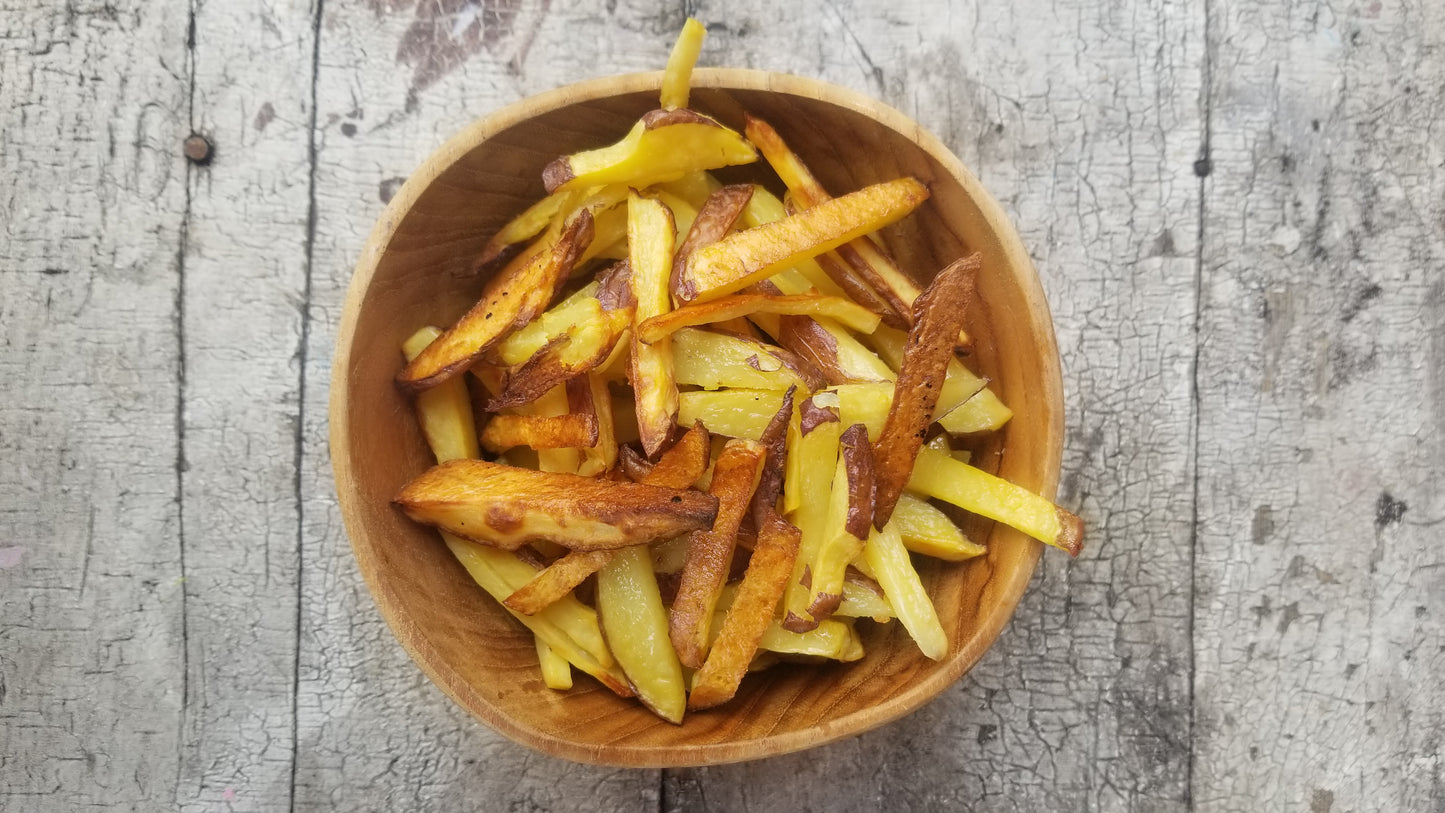 French fries are something that almost all of us can agree on. We can agree that they are delicious. That they are a treat - so much so that some people think they shouldn't have too many. In our house, there is almost always a baking sheet of oven fries on the kitchen counter either cooling for our or left over from the previous day. 
Since I began this potato-centered life back in 2009, oven fries have been one of my favorite ways to eat our potatoes. Not only because they are so wonderful fresh out of the oven, but because they are also an uncomplicated snack when cold. It is not uncommon for me and the rest of the family to eat a handful of cold French fries throughout the day: shovel the driveway, French fries, respond to some emails, French fries, fold laundry, French fries, stack wood, French fries. 
Whether with ketchup, mayonnaise, extra salt, or used as a hearty bed for a soft cooked egg, oven fries are a simple use of all potato varieties. Yellow potato varieties make a crispier French fry. White potatoes are firm and hold up well with thicker steak-fry cuts. I love to mix colors and textures on the same baking sheet to let traits of individual varieties work together.
We have experimented with deep fried French fries, which are also delicious. But using the oven creates a warm hearth energy in the kitchen without having a commitment to having a fryer full of oil on hand. If you are ever unsure how to use the potatoes at the bottom of the pantry cupboard, I recommend oven fries.
~Jonnah
RECIPE
10 medium potatoes
¼ cup oil (olive or sunflower)
Coarse sea salt
heat oven to 425°

scrub potatoes and cut away blemishes/eyes  (don't peel skins)

cut into French fries - thinner will be more crispy 

toss in a mixing bowl with a lot of oil and salt. 

put fries on baking sheet(s). Every fry should touch the metal sheet 

bake about 30min or until golden and crispy